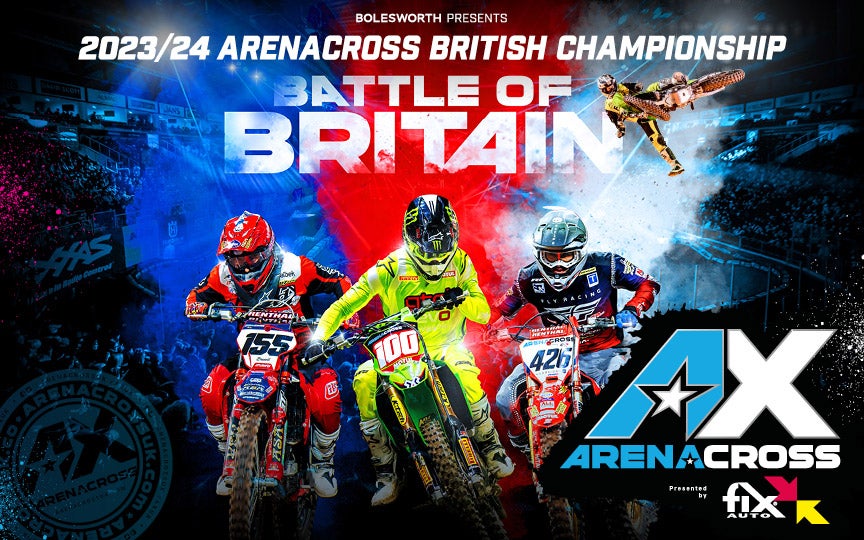 Arenacross
Date

6

Jan

, 2024

Event Starts

6:30 PM

Doors Open

5:00PM

Availability

On Sale Now
Event Details
The Arenacross British Championship is back for 2024!
Arenacross is a show like no other. It's a high-octane mix of indoor Motocross racing from 6yo kids to the top Pros, Freestyle Motocross (FMX) madness and it's packed to the rafters with all-round family fun and frenzied entertainment. It's guaranteed to keep you on your feet yelling and hollering for more!
Round 1 kicked off at Bolesworth, Chester in September and set the scene for a 7 round tour of the UK in January and February 2023, where the reigning Champion Tommy Searle, and last year's runner up Conrad Mewse will be returning to battle for the 2024 title.
Freestyle Motocross features throughout the show, and takes the action, quite literally, to another level! It's mind-blowing, spectacular and dangerous in equal measure. It takes place some 60ft in the air when a group of insanely talented 'rebels' fly off a huge ramp over a platform in the centre of the arena, throwing loads of cool and seemingly impossible tricks, one-handed, no-handed, sideways, upside-down, you name it, they do it.
These awesome sporting stars compete in year-round world tour events such as the X-Games and Red Bull X-Fighters, but … you've got to get involved as the louder you scream, the bigger the tricks.
There is so much more to Arenacross all aimed at keeping the audience engaged and shrieking for more. Make sure you arrive early for the pre show autograph sessions as doors to the venue open, but don't just take our word for it …. BUY TICKETS!
Can I bring food & drink?
Outside food and drink is not permitted into the venue unless it is for a baby. i.e. a baby bottle/baby food. Please avoid bringing food within glass containers where possible.
If you or a member of your party requires bringing food and drink for medical reasoning and allergies, please respond to this e-mail with further information so a member of the team can assist you.
Children sized backpacks are permitted into the venue as they fall under the size guidance of our bag policy - any bag larger than an A3 piece of paper (approx 35cm(W)x40cm(H)x19cm(D)) are not allowed into the venue.
If bringing an infant where you require changing items, we request that where possible if you can bring a smaller bag. If not - please do bring only the items, you need. You are permitted to bring nappies, wipes etc for the purpose of changing.
If you do require to bring extra items or may need assistance with bag sizing - please do respond to this e-mail with further information so a member of the team can assist you.
What is the age requirement for a ticket?
Children under the age of 2 do not require a ticket and must remain on the parent/guardian's lap for the duration of the show. If your child is above this age and does require a seat - you would be required to have a ticket.
Should you require any assistance, please do speak to a member of our stewarding team. We also have our Customer Services team available for the duration of the event. This is located near Block 101.
What should I do if I require a respite area?
We always endeavour to provide a room if anybody requires a break and a period of respite from the performance. We just ask that you please speak to a supervisor (in purple) or our Customer Service team (opposite block 101) who can assist.
Can I bring sensory items?
If you do need to bring sensory items with you, we do permit this, we just ask that this is communicated to us in advance of your visit, so that we can make our stewards aware. Please e-mail our team via: contactus@oa-arena.com with details, so they can best advise.