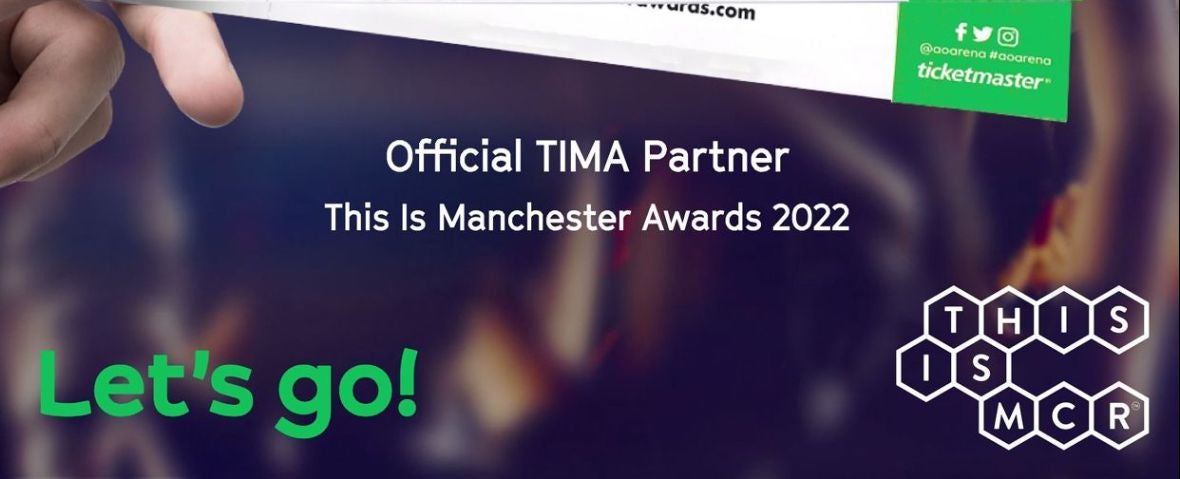 AO Arena partners with TIMA 2022
As the official 'after show partner' the AO Arena will be collaborating extensively with the This Is Manchester Awards organisers regarding the event entertainment programme which will include a stellar after party honouring 'The Beautiful North'.
The fourth This is Manchester Awards will take place on 3 November 2022 at the Hilton Manchester Deansgate and will celebrate the incredible talent Greater Manchester has at its heart, the best of the best. And, there are just under four weeks to nominate in 17 award categories including: The Night-Time Economy, Entertainment, Sport, Arts & Culture, Technology, Live Events, Property and Fashion.
Jen Mitchell, AO Arena General Manager said; "It is a privilege to partner with This Is Manchester Awards as we come together to celebrate the people, places and organisations that put the Greater in Manchester, a globally recognised brand that stands for getting things done with swagger."
Winners will be announced at a glitzy awards evening hosted by Jenny Powell and Scott Thomas in front of 400 guests. Previous events have been attended by celebrities, sports stars and heads of business.
This is Manchester Founder Ziara Siddique said; "Amazing to have such great support from the AO Arena. There's no denying that its position at the centre of Manchester and its world class music and events programme contributes to everyone involved in the city's night-time economy. We're delighted to have them on board alongside our other partners.
"One of the many beautiful things about Northern talent is its modesty – it's a scene that thrives on the rare, obscure and undiscovered and we're here to shine a light on just that, so I encourage you to keep nominating."
Another highlight of the evening will once again be the acknowledgement of a real-life superhero. Announced on the night, The Supernova award is awarded to an individual who has truly gone above and beyond for the greater good of others. First presented to John Roberts, founder of AO.com the award was passed in 2019 to serial entrepreneur Fred Done, CEO of Betfred and in 2020 to Marcus Rashford MBE.
On receiving the award in 2020 Marcus said; "I'm honoured to receive this award and would like to thank those who have nominated me for it.
"This award demonstrates the power of working together to fight a common cause. So much more needs to be done though in the fight against child hunger and this award will help motivate me and those involved to continue our efforts."
As Founder Patrons, TIMA 22 will continue to support the most vulnerable young people in the region with its continued support of HideOut Youth Zones. HideOut has over 4500 members and continues to offer young people across Greater Manchester with somewhere to go, something to do, and someone to talk to seven days a week, 52 weeks a year.